Clean your Chakras with Sacred Geometry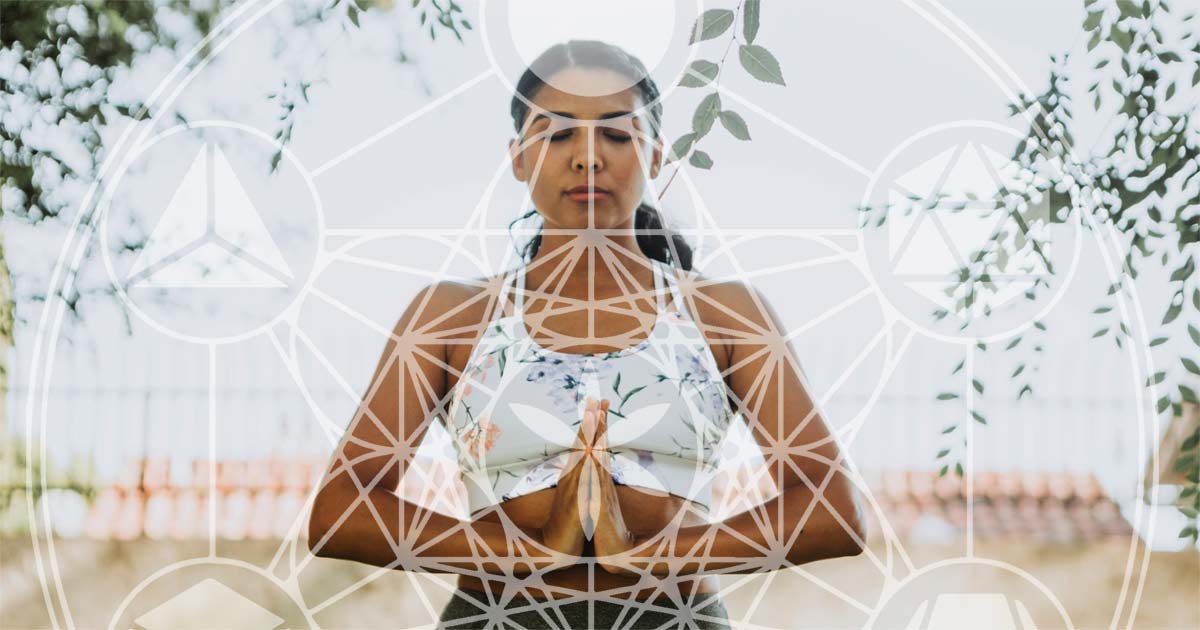 Your chakras and aura constantly come into contact with external energies. Of course, there is nothing wrong with that. In fact, if they wouldn't do so, you wouldn't experience anything anymore. But sometimes those energies aren't always pleasant.
Sometimes it may be that certain energies trigger a blockage in you. Your chakras and aura are reacting to this in turn. They stop the flow of energy at some places in your body. If the blockade remains in place for a long time, it can also start to manifest itself in the physical body in the form of diseases.
It is therefore important to clean your chakras and aura once in a while and to remove the blockages in you.
This way you can experience more balance and a "go with the flow" feeling in your life.
What are Chakras?
The word Chakra comes from Sanskrit which means "wheel". They are energy centers spread over the body over your spine. These energy centers look like a kind of funnel that make a rotating movement, like a wheel. They release energy and absorb it. The physical body has 7 chakras, which are located at important nerve points in the body.
From bottom to top the 7 chakras are as follows: Root (red), Sacral (orange), Solar plexus (yellow), Heart (green or pale pink), Throat (pale blue), Third eye (indigo) and Crown (purple).
Each chakra is built on the other, which means that a blockade on one chakra affects the others. Often the others try to compensate the blocked one, which causes them to get over active and thus out of balance.
Using gemstones to clean your Chakras
Each chakra has its own frequency and based on this frequency there are colors linked to each of them. All these colors combined creates a white light. They're basically a kind of prism.
Gemstones also have many different colors and effects. That is why some gemstones work strongly on certain chakras. For example, black gems and red gems often work on the root chakra (1st), such as Shungite.
Here you can read more about which gems we use and which chakras resonates with them.
Place the gems at the height of the chakra you want to clean. This is easiest to do lying down.
Therefore, find a comfortable place to lie down and relax.
Relax and empty your head. Sometimes it helps the cleaning process by seeing the color of the chakra in front of you.
Release the energies at each exhalation.
Using Nature
Nature knows better than anyone how to discharge or absorb energies. That is why you can also go into nature and ask Mother Earth to help you clean your chakras.
Find a quiet spot in nature, preferably near a tree. Trees are known to absorb and discharge energies, so they can perfectly help you clean.
Visualize that your feet become one with the roots of the tree and ask if the tree wants to clean your chakras and aura. Do this for as long as you want and what feels good for you.
Using Sacred Geometry to clean Your Chakras
Sacred Geometry also works very strongly on energy fields and therefore also on your aura and chakras. Some sacred geometric forms work on specific chakras such as the dodecahedron and the icosahedron. Others work balancing on every energy field like the Vector Equilibrium.
Choose a sacred geometric figure of your choice. Preferably a physical one so that you can place it on your body. Make sure there is a nice quiet spot where you can lie down, if necessary bring some blankets to keep you warm.
Place the sacred geometry on the chakra you would like to clean. Close your eyes and relax. Ask the consciousness of your sacred geometric figure if he/she wants to clean it.
Surrender to the process.
Emotions that can come loose may be expressed so that space is created in your system and blockages can be healed.
Take your time!
Don't have a sacred geometric figure yet that can help you clean your chakras? Take a look in our shop! Our healing tools are specialized in healing blockages.
Subscribe
Do you want to be notified when we write a new blog, and have awesome offers of our Sacred Geometric Instruments in your inbox?
Then you should definitely subscribe to our newsletter!